I absolutely adore Christmas music (though I only listen from Thanksgiving to New Years haha), so I was excited to come across this tag on Madame Writer's blog.  It was originally by The Artsy Reader Girl.
1. "All I Want for Christmas Is You": Favorite bookish couple.
I have a lot of favorite book couples, including Lizzy and Darcy from Pride and Prejudice and Eowyn and Faramir from LOTR.  But this said "bookish," which makes me think nerdy, so I'm going to go with Anne and Gilbert from Anne of Green Gables.  Among other things, their relationship is built on academic rivalry.  This image is from the marvelous 1980s Canadian TV adaptation starring Megan Follows and Jonathan Crombie.  One of my favorite scenes is where Gilbert gives Anne a standing ovation after she recites "The Highwayman."  He's always so proud of Anne's intelligence and her hard work.
2. "I'll Be Home for Christmas": Name a book where a character is away from home (school, vacation, etc.).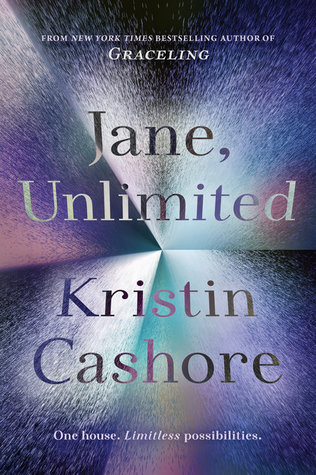 Jane, Unlimited is a unique speculative fiction story that relies on a classic premise: an orphan travels to a strange mansion.  Very gothic!  Jane is visiting Tu Reviens, the large and intriguing island home of her friend Kiran, where everything from art theft to alternate dimensions may be happening.  The premise is reminiscent of Jane Eyre as well as Rebecca, but spins off into an interesting type of choose-your-own-adventure story.
3. "Have Yourself a Merry Little Christmas": Name your favorite "little" book (children's book, short story, novella, etc.).
Ella Enchanted, a classic middle grade Cinderella tale, is one of the books that inspired my love of fairy tale retellings.  It is on the bookshelf next to my bed, along with 101 Great American Poems, which I think was a gift from my mother about fifteen years ago when I was in high school.  I have read both countless times, and they are great for when I want a quick, satisfying read before bed.
4. "Santa Claus is Coming to Town": What book(s) do you hope Santa brings you this year?
I have a lot of books on my wishlist, and my family always gets me lots of books for Christmas.  One I'm really looking forward to is Daemon Voices, a collection of essays by the author of His Dark Materials, Philip Pullman.
5. "Rudolph the Red-Nosed Reindeer": Which book turned your nose red (made you cry)?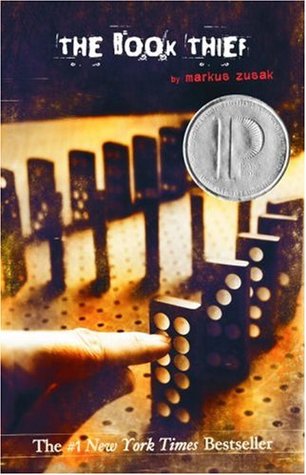 I scared my husband when I was reading The Book Thief because he looked over to see me silently sobbing with huge tears rolling down my face.  "What's wrong?!" he said.  Oh nothing, just this book broke my heart into pieces.  What a beautiful, powerful book.  Narrated by Death, it's the story of a young girl in Nazi Germany who steals books.
6. "The Most Wonderful Time of the Year": Your favorite book/kind of book to read during the holidays.
In my Seasonal Reads blog series, I mentioned that I frequently read The Dark is Rising during December.  It's full of both warm and cozy Christmas cheer as well as ominous Yuletide magic.  I love the whole series, but this one in particular is my favorite.  I also love Christmas cozy mysteries and Regency romances.
7. "We Three Kings": Your favorite trilogy.
I'm going classic for this one: Tolkien's Lord of the Rings trilogy, which I first read in high school, right when the movies were coming out.  It's still one of my favorite series.  Trilogies are very standard nowadays, especially for YA fantasy, and I think that can be traced back in part to LOTR.
8. "Let it Snow, Let it Snow, Let it Snow": A character you would love to be snowed in with.
If I were snowed in, I would want Hercule Poirot of Agatha Christie's mystery series to be one of the party.  Because inevitably there would be a murder, and then we could rely on Poirot to solve it!  I'm imagining something like the premise to Christie's play The Mousetrap, which places a bunch of guests trapped in a manor inn together.  But luckily Poirot would be there to solve the crime before any further murders take place.  Plus Poirot is just a genial guy.
9. "Last Christmas": A book that seriously let you down.
Sometimes I hear about YA books that are getting a lot of hype and figure I should check them out.  Spoiler alert: they don't always live up to the hype.  That's how I felt about Snow like Ashes and An Ember in the Ashes (maybe I should just avoid books about ashes?).  The first books in the series were fine, but nothing spectacular, and the follow-ups got less interesting so that I didn't continue on with either series.
10. "White Christmas": An upcoming release you're dreaming about.
Do you guys have favorite Christmas song?  I love all the old carols, especially obscure ones or ones in foreign languages.  And my favorite Christmas album is John Denver and the Muppets: A Christmas Together.