Here are some brief reviews of what I've been reading so far this year.
Wayward Children series
Seanan McGuire
The Wayward Children series consists of four novellas, starting with Every Heart a Doorway, which is set in a boarding school for young people who went through various magical doorways to other worlds and then came home again (shades of Narnia and Alice in Wonderland, but with less whimsy and more therapy.)  The other novellas tell a bit more about the adventures of the various characters in the other worlds.  
I tried reading the Hugo-winning Every Heart a Doorway a year ago and had trouble getting into it because I felt it was too dark.  But it's really not all that dark, considering that the plot revolves around murder and mutilation of corpses (also I was post-partum at the time and reading at odd hours of the night).  It actually has a really nice ending with a theme of being true to yourself. It has a great cast of characters, including several LGBT+ characters, which really adds an extra dimension to the themes about self discovery and belonging.  I'm reading through the rest of them now, and I've been enjoying picturing Jack, one of my favorite characters, as looking like Moonbyul of the K-pop group Mamamoo.
Heartstone
Elle Katharine White
This book is billed as Pride and Prejudice with dragons, and that is exactly what it delivers. In fact, it starts out as a beat-for-beat retelling of P&P (same characters, scenes, conversations, etc.), which was a bit boring, but as it continues it deviates further and gets more interesting.  Its strength is its world building of dragons (and dragonriders) and other creatures. 
I'm waiting for the sequel Dragonshadow on hold at the library now.
The Other Einstein
Marie Benedict
This was a book I wanted to like more than I did.  On the surface, I was thrilled to read the story of a female scientist, Mileva "Mitza" Marić, the first wife of Albert Einstein.  But I struggled with several aspects.
I am a bit uncomfortable with the use of recent historical figures as the focus of a fictional novel.  I applaud the author's intent to shine light on Mitza, but I personally would have chosen another way to do it. (This is the kind of thing that alternate history fantasy was made for.)
The book wants to treat Mitza like a Madam Curie figure, when in reality she failed her undergraduate final exams, never achieved a degree, and never worked professionally as a scientist. I say this not to disparage Mitza, who was clearly a brilliant woman (also dealt a bad hand by society), but to emphasize that the book is fiction.  Though she undoubtedly collaborated with Einstein on his early works, there is precious little evidence that Mitza had a significant role in formulating the theory of relativity.
It makes for a good story, though.  It very nearly reads like a tragedy, but the book injects some hope right at the end.  There was nothing particularly beautiful about the prose, but it did have a good sense of drama.
I realized partway through that I would rather have just read the letters between Mitza and Einstein; the author helpfully provides the link to them here: https://einsteinpapers.press.princeton.edu/. (You can in fact read all of Einstein's papers and correspondence.)
Also, have you noticed a trend in historical fiction covers recently?
Vengeful
VE Schwab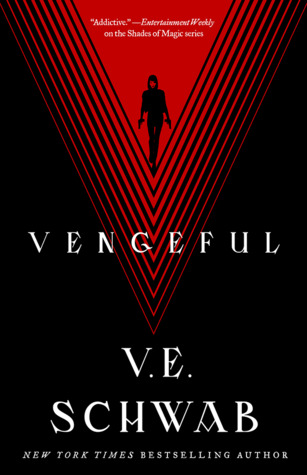 I was very excited to get my hands on this sequel to the supervillain revenge story Vicious, which I loved last year.  However, I hit some roadblocks in that until recently, my library only had the audiobook, not the ebook, thanks to a targeted campaign by the publisher (my library did not happen to have a print copy either).  I have been trying halfheartedly to get into audiobooks, and I did not think this one was great. The narrator sounded perpetually wistful, and I was not impressed with his female voices (though his accents were good).  It is also not a linear story, so I didn't like that I couldn't just skim back a few pages to the chapter break to check where in the timeline I was.
The story itself however was nearly as good as the original, just maybe not quite as tight.  It went in a different direction than I expected, and I enjoyed the journey. Victor and Eli's roles are a bit switched in this one, plus there are some great new female characters including the powerfully ambitious mob wife Marcella Morgan and the mysterious June.  The book once again has a satisfying ending but with enough threads left hanging that there could be another installment (yes, please!). So if you really like grey characters or stories that make you root for sociopaths, I highly recommend this series.
What have you guys been reading recently?