If you're looking for something on Netflix to watch with your sweetheart either today or this weekend, or you just want to reaffirm your belief in the power of love, may I suggest checking out a Korean drama?  K-dramas come in a range of genres, but there's usually a little romance in there somewhere. I've talked about some classic K-dramas before, so here are some of my more current favorites.

Descendants of the Sun (2016)
Sadly, since I started writing this post, this show has been removed from Netflix (it's still on Hulu), but I'm leaving on the list because it is my favorite K-drama of all time.  Sometimes when I'm watching a show and it's dragging a bit or the male lead is a jerk, I think, "I could be watching Descendants of the Sun again instead right now."
A love story between Captain Yoo Shi Jin, Korean Special Forces, and Doctor Kang Mo Yeon, surgeon at Haesung Hospital. Together they face danger in a war-torn country. –Google
This story has a little bit of everything: thrills, tragedy, action, romance, humor.  Shi-jin and Mo-yeon are very compelling leads that will quickly get you invested in the story.  It's set in the present day, and even though it's a few years old it still feels current in its cultural references (cameos by K-pop megastars Red Velvet for example). The soundtrack is so wonderful that you will be humming along to the songs even if you don't understand the language.  
A couple other bonuses: there's no stupid love triangle (a hallmark of bad K-dramas), just relationships that grow naturally over the episodes, with a few realistic ups and downs.  Also, Onew from SHINee has a small role.
The country of Uruk is kind of a stand-in for Iraq (though it was filmed in Greece).  One of the things I like about foreign media is the chance to reflect on how the rest of the world views the US, and Descendants of the Sun does not paint a perfectly rosy picture of our military involvement in the Middle East.  In fact, the main antagonist is former US military. There is also some insight into the conflict with North Korea.
Mr. Sunshine (2018)
Mr. Sunshine was written and directed by the same team that did DotS, so it's no surprise that this is a strong candidate for the top of my list as well.
A young boy who ends up in the U.S. after the 1871 Shinmiyangyo incident returns to Korea at a historical turning point and falls for a noblewoman. –Netflix
This historical drama takes place at the end of the Joseon era, an interesting time period most Americans (including myself) know little about.  Much of the plot centers around the politics of the era, the incursions of Japanese and American representatives, and populist revolutions.
But that doesn't sideline the personal drama.  The show is an emotional rollercoaster from the first episode.  Eugene and Ae-sin both have such complex backstories and personalities, you'll be holding your breath when they come together.  It does develop a bit of a love triangle (more like a pentagon), but it's well done.
Not to mention, the show is absolutely beautiful.  It has great production quality and loves to linger on the most beautiful shots.  I also appreciated that it includes lots of well-spoken Japanese and English (even though Teddy Roosevelt has a European accent haha).
Mr. Sunshine is considered a Netflix original and was actually simulcast on Netflix last year (the show is now complete).
Hello, My Twenties! (2016)
Netflix recommended this one to me, and its algorithm was definitely on point as I quickly got sucked into this female-driven, contemporary slice-of-life drama, which is also known in Korean as Age of Youth.
Five female housemates and college students meet and live at the Belle Epoque….Together they juggle the perils of adult life. –Google
Right off the bat, the opening song of this show is great!  You'll be singing along after a couple of episodes.
I love that the show gives time to each of the housemates and their problems, which sometimes involve romance and sometimes don't.  I liked all of the girls, but the oldest Jin-myung (far right in the image) stood out as my favorite. Something about her struggle, her drive and determination, and her reserved personality spoke to me.
I think of this as being a "light" show, but it does actually get intense in some places.  Overall it has a really good balance of drama, comedy, and romance. It's really nice to have a show every once in a while where the main cast is all women.
Season 2 is now on Netflix as well.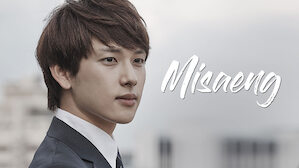 Misaeng (2014)
I was surprised how much I enjoyed this office drama; there's less romance, but it makes up for it with a great cast of characters.
Equipped with nothing more than a GED and strategies for the game of Go, an office intern is thrown into the cold reality of the corporate world. –Netflix
This show centers around Geu-rae, a washed-out student of baduk (Go) who never went to college yet somehow lands a coveted internship at a big trading company.  The title "Misaeng" is a baduk term meaning "an incomplete life." Geu-rae starts as a fish out of water, not even knowing how to use the copier, but soon learns to adapt using the lessons he learned playing baduk.  He's very easy to relate to, plus the actor looks a little like a cross of Jin and V from BTS.
The supporting cast really shines, too.  You will grow to love and root for the rest of Geu-rae's sales team as well as the three other company interns struggling to prove themselves.  It's a great view into the realities of the corporate world, especially regarding the extra hurdles for women even in the modern day.

Something in the Rain (2018)
I was a little hesitant to include this one because I've only watched a few episodes, but it has already hooked me.
When a single career woman reunites with her best friend's younger brother after he returns from three years of working abroad, their efforts to reconnect grow into romance. –Google
The original Korean title of this show translates to Pretty Noona [older sister] who buys me food, which is more lighthearted than the English title.  It refers to Jin-ah and Joon-hee reconnecting by trading off who pays for their meals together. Joon-hee is always asking her to treat him.
I fell in love with Jin-ah from the first episode, where she dances around her empty office to "I am the Best" by 2NE1, my favorite K-pop group.  Being above 30 myself, it's great to have a romance that features an "older" female lead.  I am a little confused by the show's obsession with Tammy Wynette's "Stand By Your Man," but hey, why not?
This show also has a glimpse into Korean office culture, mainly because the two characters work in the same building.  However, their two companies have a vastly different culture, so it's interesting to compare their jobs (some of it does relate to their different ages).
Honorable Mention: Oh My Ghost (2015)
I wanted to mention this one for some diversity because of its fantasy elements and large dose of comedy.
Possessed by the ghost of a lustful virgin, a timid assistant chef becomes confidently libidinous, drawing the attention of a haughty culinary star. –Netflix
While this show's writing and storytelling is not as high in quality as the others, relying more on tropes, it is still really funny and I enjoyed the frank way it discusses sex, which is fairly rare in K-dramas.
The Thai version of this show, also called Oh My Ghost, is also available on Netflix, though I haven't seen any of it yet.
Hope you guys are able to check out some of these K-dramas and enjoy them!