As I have mentioned recently, the majority of my reading is currently done via ebooks on my Kindle.  And though I do buy some ebooks, mainly indie titles or during sales, my primary source is my local library via the Overdrive system.  And since my primary genres are sci-fi and fantasy, I ran into an unexpected issue recently; I'm kind of uncertain how I feel about it and I'd love to hear your thoughts on it.
After reading VE Schwab's Vicious (you can read my glowing brief review here), I was eager to pick up the sequel Vengeful, which came out September 25, 2018, published by Tor Books.  However, when I went to place a hold on it on Overdrive, I found that there was only an audiobook copy, no ebook to be found. I thought that was strange, so while I waited, and waited, and waited months for the audiobook I did some digging.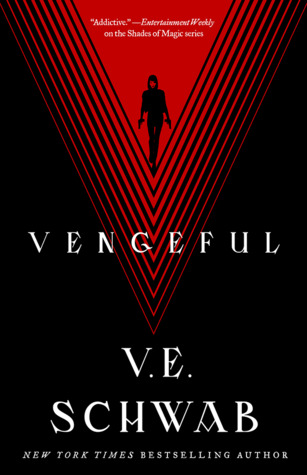 Last summer, sci-fi/fantasy publisher Tor, a division of Macmillan, announced a test wherein they would only sell ebooks to libraries after a four month waiting period.  They suspect that library lending is cutting into their sales, so by restricting the digital copies they sell to libraries they hope more people will buy their ebooks. Here are some are some articles with more detail from Publishers Weekly and Library Journal.
I had vaguely seen this in passing last year, but for some reason had not expected it to affect me.  I have to admit, once I discovered why I was unable to get a library ebook copy of Vengeful, it had the exact opposite effect on me.  I had briefly considered buying a copy instead of waiting for it, but after finding out about Tor's plan I absolutely refuse to buy it.  Maybe that's just me being stubborn, but I really dislike feeling almost like the publisher is manipulating me. I personally buy most books only after having read them from the library first; you can argue whether that's fair or not, but it's a strategy that I am comfortable with.
Of course plenty of other people are upset about Tor's plan also.  The ALA issued a press release on it, and John Scalzi (a Tor author) wrote a very fair-minded response to many fan complaints.  (Among other things he points out that Tor was one of the first to abandon DRM on their digital books, and that the four month delay does not apply to print copies.)
I understand that Tor is running a business, but this move does not seem designed to foster goodwill with their customers.  I am certainly less inclined to buy any of Tor's books right now.
Presumably my library will be able to get an ebook copy of Vengeful on January 25 (they don't have a print copy right now either for whatever reason).  Maybe I'll be able to read it at some point after that, or maybe I'll just move on to other books (my to-read list is certainly long enough). Tor did express that this was a test, but there's no information on how long they expect the test to go on (it's "open-ended"), nor have I found any updates on how their sales have been since last summer.
Have any of you run into this same issue with Tor ebooks?  What are your thoughts? Should I just suck it up and get used to sci-fi audiobooks? 😀