Do you like getting into fights on the Internet over trivial things?  If so, I recommend you fill out this March Madness-style bracket of Disney and Pixar movies and begin alienating your friends with your terrible choices.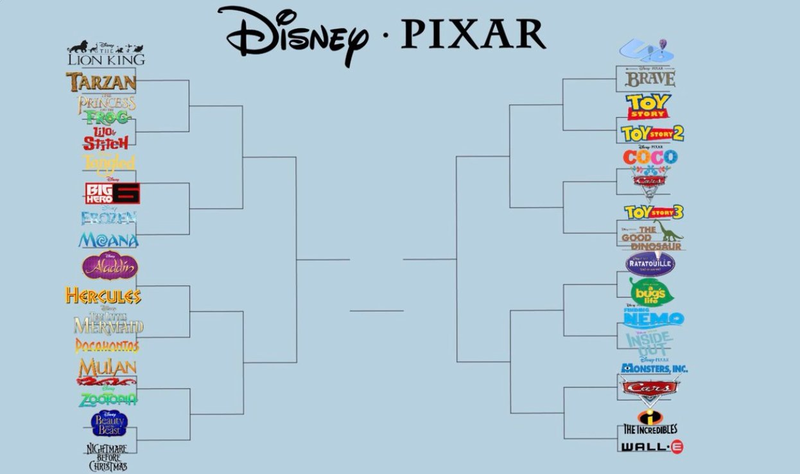 I had so much fun doing the Holiday Madness bracket at Christmas, I thought this would be another fun one to do.  As you see, Disney movies are on the left side of the bracket and Pixar movies are on the right, meeting in the final.  As with all brackets, the seeding is the most important factor in determining the outcome, and I think the seeding here is a bit flawed.  I'm not really sure how it was done, and I feel like the starting matchups could be better, but I'm too lazy to figure out my own, so we'll go with this one.
I really tried to be objective instead of just picking my favorites.  On the Disney side, I knew it would come down to those top four, and then I struggled to pick among them.  I admit I probably let some nostalgia sway me, because The Lion King is my favorite Disney movie.  I'm confused by the inclusion of The Nightmare Before Christmas instead of, say, The Rescuers Down Under or Atlantis if they wanted to keep it around the Disney Renaissance period, or Wreck-It Ralph if going more contemporary.
On the Pixar side, Up and Wall-E are my favorite Pixar movies, but they didn't make it very far.  I really struggled with the seeding: Finding Nemo vs. Inside Out and The Incredibles vs. Wall-E do not seem like first round matchups to me.  I also admit I have not seen Coco or Cars 2 (plus I fell asleep during the original Cars).
But overall, I think my "Elite Eight" are a pretty good representation of the best of Disney/Pixar.  Now here's your chance to tell me how wrong I am!  What would your picks be?