I was fortunate that I got to read approximately 100 books this year (not counting re-reads).  Unfortunately, I did not find much time to review many of them.  I enjoyed another year of the bimonthly GeekyNerdy Book Club which expanded my reading selections (look for one last post for the year presently).
Here are a few books I'd like to highlight from this year's reading.
Most-read author
This title is awarded to Georgette Heyer.  This year I went on a huge Regency Romance kick (a plurality of the books I read fall into this category), and part of that was discovering this wonderful author whose wit and historical detail is unrivaled in the genre.  I read 21 of her historical romances, and I look forward to reading more in the future.  The Grand Sophy was the one that really got me hooked, and it's a great place to start for anyone intersted.  I recommend her work to anyone who loves Jane Austen as I do.
YA trilogies:
Gemma Doyle trilogy 
I read a lot of YA fantasy, and I find the vast majority of it enjoyable.  However, it's rare to find a series as well-written as Libba Bray's Gemma Doyle trilogy.  It wasn't entirely my style, being a bit too dark and Gothic, but I really felt there was a depth to the story not often seen in YA fantasy.  In particular, I liked the author developed themes of free will, including the use of classic literature.  And the characters are surprisingly diverse considering it is set in a girls' school in Victorian England.
Edelstein (Precious Stone) trilogy
This series was translated from the original German a few years ago, and it is one I definitely stayed up late reading.  Though nominally set in contemporary times, the main character is a time traveler trying to uncover a conspiracy, so we get to travel to several different time periods in the course of the books.  I was so impressed with how well all the time traveling fits together over the series; the author clearly plotted the whole thing out very well beforehand.  It's also really fun for all the mysteries to be revealed over the course of the books.  The characters can be a bit emo at times, but hey, they're teenagers.
Classic YA Fantasy:
I can't believe I had never heard of these two short novels (published in ebook format together), let alone read them.  The first book introduces the rebel Mel on her quest to overthrow a corrupt king with the help of her brother and their people…and some unexpected help along the way.  The second book sees brash Mel getting an education in the subtle politics and court life of the capital city.  There's also a wonderful slow-burn romance.  Each book has a slightly different tone, but they work beautifully either together or separately.  The characters and wordbuilding in particular are memorable.  It really gave me vibes of The Blue Sword by Robin McKinley, which is high praise indeed.
I came across this series after it was recommended to me by Purple Pumpernickel on my Regency Romance post earlier this year.  I love Patricia Wrede, author of the Enchanted Forest Chronicles, so I was excited to pick this up, and I was not disappointed.  There's plenty of magic, mystery, adventure, and a bit of romance and whimsy.  It is told in epistolary form, as a series of letters between cousins Kate and Cecelia, with each author writing one character.  An unusual form, but it really works here, especially feeding into the Regency setting.
Non-fiction: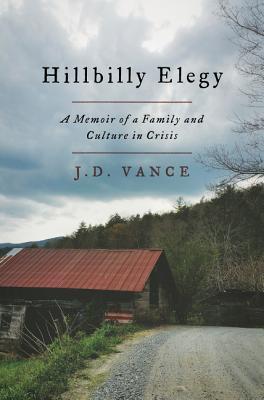 For the GNBC I enjoyed reading As You Wish (Cary Elwes's memoir of making The Princess Bride) and Carrie Fisher's Shockaholic
The most affecting nonfiction I read this year was the best-selling Hillbilly Elegy by J.D. Vance.  It tells of the author's upbringing in rural West Virginia and Ohio, surrounded by poverty, family dysfunction, drugs, and declining jobs.  Vance eventually made it "out," but in some ways these parts of his youth will stick with him his whole life.  I thought this might be a dry read, but it was anything but.  I read it as fast as a novel.
Much has been made of the divide in the US between urban and rural, blue state and red state, haves and have-nots.  This book does not do much to put forward ideas to solve any of the problems of drugs or lack of jobs affecting communities like Vance's, but that's not really its point.  Its point is to help us better understand why these communities live the way they do, and to have some empathy for them without judging them.  I can't say it changed my political views or anything, and I already understood some of these concepts from living in Ohio, but it really did make me think and expand my worldview while being an engaging read.
You can check out the other books I reviewed this year with the Book Review category (click here) or the GNBC tag (click here).  There was a distinct lack of sci-fi on my reading list this year, so hopefully that will change in 2018.  I also read some contemporary YA and some comics, and hopefully I'll be writing more about those in the future.
Here's to more great books in the new year.  What books did you enjoy most in 2017?