So I recently went on a months-long Regency Romance kick.  It's been a wonderful escape from everything going on in my life and in the world.
The "Regency" period refers to a time in the early 1800s when Britain was ruled by the Prince Regent (later King George IV), because his father George III was deemed unfit. (This era also includes the Napoleonic Wars.)
Jane Austen is of course one of the most famous authors of the Regency period, and I have read all six of her completed novels many times (my favorites being Persuasion and Pride and Prejudice).  So it's no surprise that in the twentieth century a whole genre developed around writing similar novels, now as historical fiction.
Georgette Heyer essentially created the Regency romance genre, doing meticulous research to provide readers with accurate information about the period, using the same phrases people of the time would have used, and with the same worldview.  This has spun out into a large, varied genre whose books have varying degrees of historical detail, humor, intrigue, sex, and even sometimes a little magic.
Georgette Heyer
As I said above, for Regency Romance, there is no better place to start than the works of Georgette Heyer.  I am currently working my way through her thirty-some historical romance novels, and there are so many things to love.  She comes very close to Jane Austen in her dry wit and love of the ridiculous in her characters.  I am constantly laughing as I read them.  I love that she writes with 
such historical detail; I've learned so much about the culture of that time.
I also love that she has many varied plots and characters: she has some Gothic novels, some mysteries, settings in London and in the country, main characters that are young and silly, or older and more sensible, couples that have known each other forever or have just met.  Her romance is very clean, usually with some kisses at the end.
Here are a few of my favorites so far:
The Grand Sophy: The second of her novels that I read, and the one that got me hooked.  Sophy is a tour-de-force main character, the kind of person that can manipulate everyone around her into doing what's best for them.  The ending gets a little ridiculous, 
but it's so funny you won't care.
The Quiet Gentleman: I liked that this one has some mystery in it as well as romance; the main character suffers several attempts on his life after returning home to claim his inheritance.  It was pretty easy to figure out who the culprit was, but I still enjoyed it.  I also liked that the heroine is very unromantic and sensible—a girl after my own heart.
Bath Tangle:  This novel features several couples, all with varying (but entertaining) 
personalities, and it is set mostly in Bath as the title implies.  I really enjoyed the interplay between as the characters as they all struggle to figure out what they really want.
The Alastair-Audley series: The three main books in the series (These Old Shades, Devil's Cub, and Regency Buck) are absolute classics.  The heroes are not always particularly likeable, but the heroines are always capable of handling them.  These books probably have the most history in them, too, dealing with many important figures and events of the day.  The first two are actually set in the Georgian period just before the Regency which gives the series even great scope.
Lester Family series by Stephanie Laurens
The Reasons for Marriage • A Lady of Expectations • An Unwilling Conquest • A Comfortable Wife
This is a series of "reformed rake" stories all centering around one family.  It's not really necessary to read them in order, but I liked that they were all connected, and many of the same characters appear throughout.
The first book, The Reasons for Marriage, was probably my favorite.  It features an apparent marriage of convenience that turns into something more.  I particularly liked that the heroine Lenore was intelligent, independent, and even a little introverted; her eventual pregnancy is also part of the plot, which resonated with me currently.
These are actually the first Harlequin romance novels I have ever read, and I was surprised how much I enjoyed them.  Though more racy than Heyer's novels, they are fairly tame in terms of adult content.
I also started reading Laurens' Cynster family series, and those are much more explicit in a bodice-ripper style.  As I told my husband, I was 7% of the way into the first book and there was already a hot shirtless guy running around.  For reasons.  Anyways, the Cynster books are not as much my cup of tea, but also feature some entertaining characters.
Love, Lies, and Spies by Cindy Anstey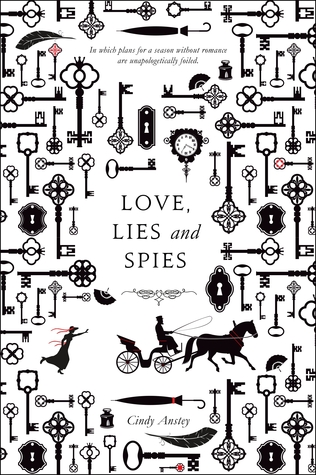 I loved the intrigue and adventure in this recent, lighthearted YA romance.  It was just wonderfully fluffy and charming.  I also loved that the heroine Juliana is a scientist trying to get her work published!
The book was nothing particularly groundbreaking, but it was entertaining from the very first chapter.  The main couple was very cute.  There was quite a lot of stuff like Miss Telford had very nice eyes and a nice smile but Spencer wasn't going to think about that right now.
The author also published another YA Regency title this year, Duels and Deceptions, which I have on hold at the library and hope to read soon.
Now…onto the magic!
Newt's Emerald by Garth Nix
On my quest to read more of the authors from the twisted fairy tale anthology I enjoyed last year, I uncovered this gem (pun slightly intended).
This one has all of the charm of a Regency romance, plus dangerous magic, adventure on the high seas, and assumed identities thrown in, too.  It was a wonderful mix of genres; I think it leans a little YA also.
The first chapter, in which Lady Newtington's (Newt's) emerald is stolen, read a bit like a short story, and then the rest of the book kind of goes off in a different direction in searching for the emerald, with a bit of shift in tone.  It was a little weird, but the book was so entertaining it didn't bother me much.
Shades of Milk and Honey by Mary Robinette Kowal
This is the first in a series about a family of sisters that have some talent for glamour, aka
magic, which is kind of considered a womanly art.  I really, really liked how the concept of illusionary magic was done here; it was interesting and could easily be explored further in the series.  Although the tone is more adult, I don't recall anything more than a bit of kissing.
However, the characters and plot were rather average.  I read this several months ago and can't even remember all that much about it.  The heroine Jane was interesting enough, but I did not take to the hero at all, finding him at turns boring and confusing.
So, in short, I don't plan on reading any more of the series.
Do you guys have any favorite Regency stories (of any genre!) to recommend?