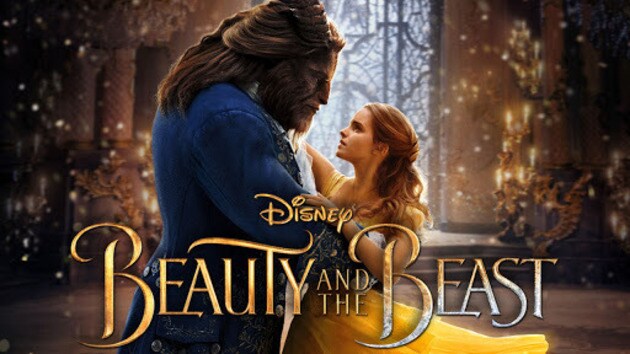 As I'm looking forward to the new Disney live action version of Beauty and the Beast (early reviews are vaguely positive), I recall the first time I read a Beauty and the Beast story: in elementary school, one of our Reading textbooks had among its folk tales a telling of the traditional French story, complete with illustrations and a pretty page border.
Since then, I've developed a great love of fairy tales and have seen and read many version of Beauty and the Beast.  Here are some of my favorites.
Once Upon a Time (S1 Ep12 "Skin Deep")
It's been a few years since I watched Once Upon a Time, but the first season is particularly enjoyable, and BatB is one of the key fairy tales introduced.  Emilie de Ravin is a charming Belle, and they added some nice twists to the tale (Rumplestilksin is the Beast, and Belle becomes the town librarian) while keeping some nods to the Disney animated movie (Belle's dresses, the chipped teacup).
Beastly by Alex Flinn
T
his YA novel updates the BatB story to modern times and also follows the Beast's perspective.  Kyle Kingsbury is cute, popular, and rich…until he manages to insult a real, live witch at his high school, who turns him into a beast.  His famous father stashes him in a NYC townhouse with only a housekeeper and a blind tutor (plus a chat room for other magically transformed teenagers) for company. Our Belle here is the bookish Lindy, which is short for Linda, the Spanish word for "pretty."
I gave this book a 4/5 when I first reviewed it.  It's not my favorite YA fantasy by a long shot, but Kyle is a compelling narrator and it's a nice urban update on the tale.
Masque by W.R. Gingell
I just re-read this book again recently; it was one of my great
finds of 2016.  The BatB story is nestled inside a murder mystery filled with magic and intrigue.  Lady Isabella "Belle" Farrah is one of my favorite protagonists of all time.  She has such quick wit and emotional control, yet still manages to grow over the course of the book.
This book will appeal to fans of historical romance, fantasy, mystery, or even steampunk genres.  There's so much to love!  Check out my original review here, or you can pick it up for cheap on Kindle on Amazon.
Beauty by Robin McKinley
This is a classic fairy tale novelization and was key in my (and I'm sure many other's) love of the genre.  It's a very traditional, novel-length telling, and pretty much a YA book before YA was a genre.  There's no surprises here, just a great story with lovely writing.
Beauty is currently available as part of a $15 Humble Bundle of  "Women Of Science Fiction and Fantasy." 
McKinley decided to revisited BatB twenty years later with Rose Daughter, which is a more daring, quirky take.  I like it a lot, too, but it's not quite the classic that Beauty is.
Beauty and the Beast (1991)
This movie came out when I was about five years old; consequently it was one of the first Disney movies I saw, and it has remained a favorite throughout the years.  The opening sequence contains some of the most beautiful animation I've ever seen.  And the songs!  I can still sing them all.  It stands tall as part of the Disney Renaissance, and was even the first animated movie to be nominated for an Academy Award for Best Picture.
What's your favorite version of Beauty and the Beast?