Finally, a book that lives up to the hype!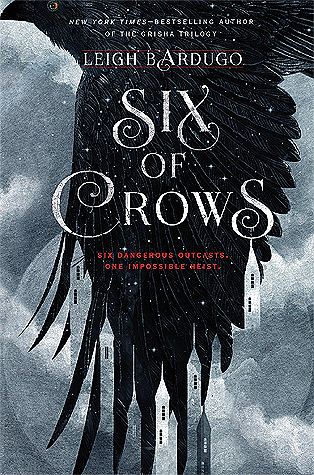 I read Leigh Bardugo's Grisha Trilogy earlier this year, and liked it enough to give it 4 out of 5 stars, but this "companion" novel blows it out of the water.  It's easily the best YA I've read this year.
Ketterdam: a bustling hub of international trade where anything can be had for the right price—and no one knows that better than criminal prodigy Kaz Brekker. Kaz is offered a chance at a deadly heist that could make him rich beyond his wildest dreams. But he can't pull it off alone…
So this is a heist story, which means a wonderful cast of GREY CHARACTERS! My favorite.  Our team of would-be thieves offers many diverse viewpoints, and I loved all of them.  My favorite is Inej, aka the Wraith, who finds an inner strength and purpose over the course of the book.  There's also some romance developing between some of the team members, but it's subtle and gradual (no insta-love) and flows naturally from their character development.
The story itself is very suspenseful and entertaining, with some great twists along the way.  I actually didn't realize that this was not a stand-alone book, and at the end I was so upset that the sequel isn't out yet!  It can't come soon enough.
The setting is the same world as the Grisha trilogy, but in different areas than we've seen before, and several years later.  (You don't at all need to read the Grisha trilogy first.  There are a few fun references, though–Inej has named one of her daggers Sankta Alina.)
It's a nicely developed world, with some parallels to our own in terms of nations.  It also has some fantasy: characters called Grisha who are born with abilities to manipulate various aspects of the natural world; they are alternately hated or worshiped.
A really good fantasy story is one that uses its speculative elements to say something about the real world, and this one delivers on multiple fronts.  The one part I've been left thinking about this week is when a character wonders why it seems worse to be killed for being a Grisha than to be killed for being a thief.  It's because the latter is what you do, but the former is what you are: an essential part of you that you were born with, like skin color or sexual orientation.  When someone is hated or feared or threatened or hurt simply for being who they are…that is a truly terrible thing, and it's what we have to keep fighting against.
Anyway, I can't say enough good things about this book and its writing and story and characters and realness.  Also, its pages are edged in black and it looks supercool.
5/5 stars