My recent work trip afforded me the opportunity to read four whole YA novels, mostly fantasy, with varying degrees of quality.  Here are some brief thoughts.
Walk on Earth a Stranger
Rae Carson
5 / 5 stars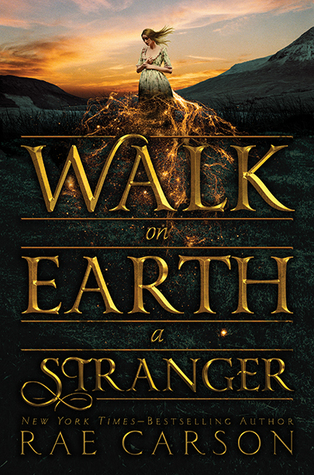 This was my absolute favorite of the four books, and the only one that I really had trouble putting down.  I already loved Carson's Girl of Fire and Thorns trilogy, and while this trilogy will be quite different, it's already off to a great start.
Lee Westfall likes her life on her family's Georgia homestead, where she uses her secret power to sense gold in the ground.  But then her parents are killed, and the murderer is coming after her next, wanting to use her powers.  She disguises herself as a boy and, with her best friend Jefferson, joins a wagon train headed to California during the gold rush.
So many great things about this story:
 I loved the dialect the characters use.
The setting is great; there is soooo much Oregon Trail nostalgia here, and the conflict is primarily man vs. nature.
Lee is an awesome protagonist.  The point I knew I loved her was when upon receiving a marriage proposal that reminded me distinctly of Mr. Collins' proposal to Lizzy Bennet in Pride and Prejudice, her first words were: "Oh, hell no."
The book is a fairly self-contained story, but also leaves some room to grow in the next books.
Slow-building romance!
Social issues of the times are brought into the story, including attitudes towards women, African-Americans, and Native Americans.  The morality can be too simplistic/modern at times (all the bad guys have slaves and/or kill Indians), but that can be good in a YA book, and at least it's not glossed over.
The Rose Society
Marie Lu
3.5 / 5 stars
It's been a while since I read the first book in this series, The Young Elites, and I thought I remembered it pretty well…but that turned out not to be the case.  I couldn't even remember who "Dante" was; I had no recollection of a character by that name.  Sooo maybe not a ringing endorsement of this series.
In any case, this book sees Adelina Amouteru go even further down her dark path.  I really liked her character progression, and her relationship with her sister.  I liked the new characters, especially Magiano!  But the plot was kind of…weird.  I found it less engaging as I went on, and I'm not sure where it's going from here.
I'll still read the third one when it comes out.
An Ember in the Ashes
Sabaa Tahir
3 / 5 stars
Upon reflection, I think the part of this book I liked best was the ending.  I'm not trying to be snarky; the climatic battle and ensuing action was the first time things really started to come together and get interesting.  Otherwise, this book was kind of a mixed bag for me, and I remain undecided as to whether I'll continue with the series.
Laia, a Scholar, risks everything to save her captive rebel brother when she undertakes a dangerous spy mission in a Martial training school, where she comes across Elias, who is undergoing Trials to become the next Martial Emperor.  Naturally they are destined to change the world together or something…sorry, now I am getting snarky.
I liked the Roman Empire-inspired setting, but it felt a little superficial.  I really liked the inclusion of mythological creatures like jinn and ifrits.  The main and secondary characters were all adequate, but the villains were a bit cartoonishly evil.  I was also not particularly invested in any of the (multiple) romantic angles.
There's also some nice maps in the front, which I completely forgot about because I was reading the Kindle edition.
Lastly, I should mention the threat of rape that constantly hangs over the main and supporting female characters.  Some readers have found that it adds to the dark and gritty nature of the story; I found it weird, and fellow blogger Luther Siler addresses this in more detail in his review.
Paper Towns
John Green
3 / 5 stars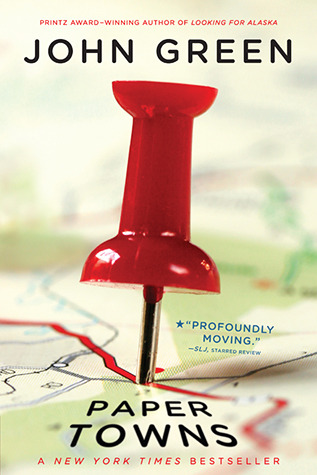 Once again I read a John Green book, and once again it was really well-written, just not written for me.  I read the first third of this book over a year ago, found nothing likeable about Margo, and put it down until I was trapped on an airplane with a stranger next to me and nothing better on my Kindle.
To be fair, I liked the main character Quentin (I just had to go look up his name) and the book overall more as I went.  But Q's very nice revelations about empathy and the different ways we view other people (very important topics for young people!) were things that I have already contemplated for decades.
I did really like the way the characters use classic literature, especially poetry, to better understand the world and its truths.  This really rang true to me as I remember high school being a time when I started to read a lot of poetry and really connect with it.
So, in short the book was clever, funny, and moving, and I'm sure it will make a great impact on many readers…just not me.