Let's start by saying that CA: Civil War is a great movie, and if you haven't seen it, you should.  If you have seen it, please continue reading this post to geek out with me about some of my favorite parts of the movie.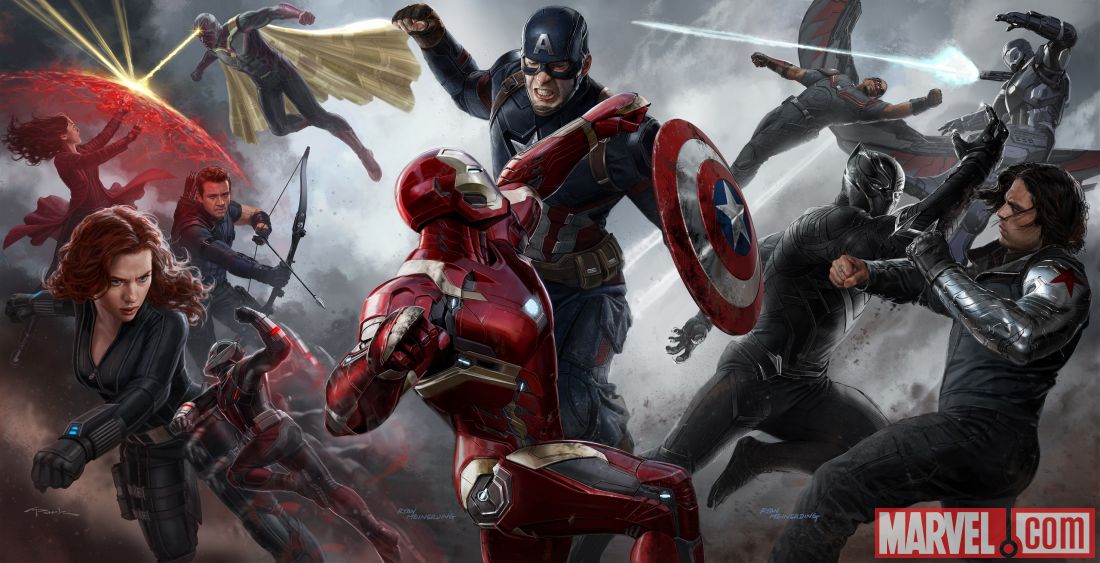 Our local drive-in was sadly unable to show CA: Civil War this weekend because Disney's contract was too demanding.  So we had to go to the regular theater with the masses.  It was still fun.
The huge ensemble cast was handled really well, which gives me great hope for the upcoming Infinity War movies (also be directed by the Russo brothers).
The Russo brothers are from Cleveland, which gets a shoutout in the movie (and got a laugh from our theater).
Side characters got plenty of love:

 T'Challa has an entire story arc!  His teaser at the end I think really got everyone pumped for the upcoming Black Panther movie.
Not being a huge Spiderman fan, I felt he was unnecessary in the movie.  But I do appreciate that they nailed his character, especially when he basically describes the principle of "with great power comes great responsibility" using high-school-boy words.
SCARLET WITCH AND VISION.  Everything about them.  Character design.  Use of powers.  Their growing connection.  Wanda's story arc, and the way she's losing her accent.  Vision in a sweater!!  WANT MORE.

Giant-Man was the biggest surprise of the movie for me, and it filled me with glee.
I hope Zemo won't end up being another "one-shot" villain, because I'm kind of sick of that, and he was an interesting character.
There was such a great blend of humor, action, and emotion.  I love that the superhero-on-superhero action lets us not only get cool fight scenes, but also delve into the grey areas of morality a bit.  The Avengers are both the heroes and villains in this movie.  Maybe an interesting analogy for this election season in the US?
The Empire Strikes Back reference!  I was like, "Use harpoons and tow cables! Go for the legs!"
Where does it rank for me in terms of the MCU movies?  Not sure, but definitely in the top 5.
The lady next to us was pissed that her family made her stay for the second post-credits teaser.  "I stayed for that?  It was terrible!"  Guess she's not a Spiderman fan either…