I know you're so shocked that I read more YA fantasy!  Here's a quick rundown on several series, ranging from excellent to meh.
The Grisha Trilogy
1. Shadow and Bone
2. Siege and Storm
3. Ruin and Rising
Overall I quite enjoyed this series.  While the premise of "special girl protagonist saving the world while in a love triangle" is not too original these days, I liked the characters and the writing was stronger than many.  For me it was nearly on the same level as the Girl of Fire and Thorns series (although I liked GoFaT's setting better).  Once again, I felt the first book was weaker and it got better in the second and third.  I'm looking forward to reading Bardugo's latest Six of Crows, set in the same world.
4/5 stars
Throne of Glass Series
1. Throne of Glass
2. Crown of Midnight
3. Heir of Fire
4. Queen of Shadows
The titles of these books are so generic I can never remember them and I had to go look them up.  This series is not finished; I think there will be another book this year, and probably others after that.  But I probably won't be reading them.
This was yet another instance of a series where the first book was kind of a generically ok fantasy with decent writing and some good characters, and then the second book, Crown of Midnight, really evolved into something compelling and interesting.  Unfortunately, the 3rd and 4th books kinda sank back down to "ok" status.
My main problem with this series was the huge leap in scope as it progressed.  The first takes place nearly entirely in one castle; the second expands out a bit into the city and adds in a lot of details about backstory that open up the world nicely.
The 3rd book shifts in part to a whole other continent and has massive power creep.  By the 4th book, we've entered "save the world" territory.  I'm sure some readers will enjoy that the story organically gets more epic, but it just wasn't what I was looking for.
This series does have some pretty serious stuff and is dark in places.  (I also appreciate its willingness to accurately represent "young love" and breakups.)  But I almost didn't make it through Queen of Shadows and had to stop reading for awhile in the middle because I found it too depressing.
3/5 stars
Magonia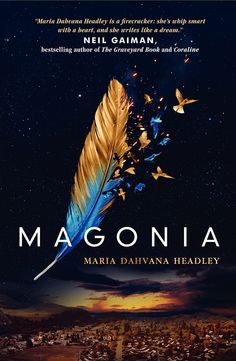 Magonia is the beginning of a new series, but it also works pretty well on its own.  It kind of strains genre boundaries, because it starts as YA "sick lit" and ends up somewhere around steampunk.
 I really liked parts of this book, but overall it just didn't quite grab me.  I would love love love to read the first third of it reworked as a short story, because this part reads as magical realism, and with the main character's nearly stream-of-consciousness narration, it felt quite unique and special.
Once the story transitioned to more straight fantasy is where I started losing interest.  I didn't much care for most of the characters on the airship.  But I did think the ending was strong, and as I said, the story was fairly self-contained.  Which is great, because I probably won't keep reading any sequels.
3/5 stars
Stay tuned for Part II next week!