Do you ever find yourself coming back to a certain story at a certain time of year?  I often re-read books during a specific month or season that I feel is inextricably tied to the book.  Here's what I'm reading right now to get in the spirit of the season.
 Harry Potter and the Order of the Phoenix (J.K. Rowling)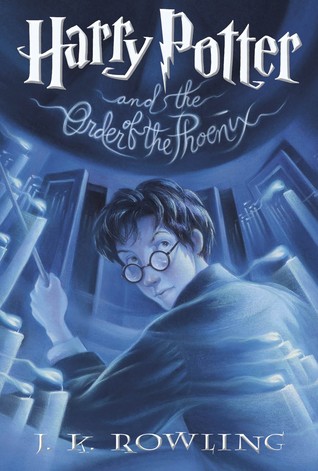 Harry Potter for me is practically synonymous with summer reading.  I don't think I was ever assigned it as summer reading in school, though I daresay that is common.  Or at least it was when I was in school.
All the Harry Potter books have strong ties to summer.  Harry's birthday is July 31st, and all the books start around this time.  They also finish at the end of the school year, the start of summer.
But most importantly, the books were released in the summer.  From Book 4 on, summer was when I read all of them for the first time.  I'm sure many of you even attended release parties at midnight for some of the later editions; I did for Book 6.
I remember specifically that for Book 5, Harry Potter and the Order of the Phoenix, my sister had placed a pre-order from Borders/Amazon.  On June 21, 2003, she was not home to receive it…but I was.  The next day I left for tennis camp, with the book packed in my suitcase.  I read the whole thing that week, before she ever got a hold of it.  (In my defense, she was still gone most of the time I was at camp.)
I distinctly remember sitting in the camp dorm room crying, not when Sirius died (I was too in shock), but later at the conversation in Dumbledore's office, when he seems so defeated, telling Harry about the prophecy and how his fatal flaw was that he cared about Harry too much.  I'm getting a little teary thinking about it now.
So for me it seems natural to come back to this series as a summer read, though I probably re-read Prisoner of Azkaban most frequently, as it's my favorite.